Mango Mess-tival!
On Sunday 4 December 2016, North Bondi was struck by mango madness as mango lovers across Sydney descended upon the annual Mango Mess-tival to celebrate the beginning of summer and peak mango season!
Nippers showed off their skills on the sand in mango-based relay races and flags competitions, whilst off the sand, the public challenged nippers in messy mango eating competitions! Meanwhile, the mango-loving public were able to whip up a fresh mango smoothie on the bicycle-powered smoothie blender, try grilled mangoes at the BBQ, watch intricate mango flower carving displays, and share the action with family and friends at the social media photo booth. Our generous growers also donated delicious mango varieties from around the country, which were sampled at the grower stalls!
If you didn't manage to catch any of the messy mango action from this year, head over to facebook.com/aussiemangoes to see some pics of all the fun!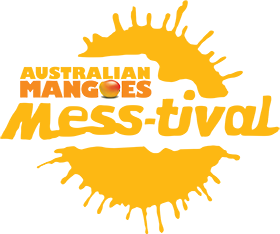 Next event details
Date:
3 December 2017
Time:
8am – 12pm
Location:
North Bondi Surf Life Saving Club, North Bondi
Further details:
facebook.com/aussiemangoes