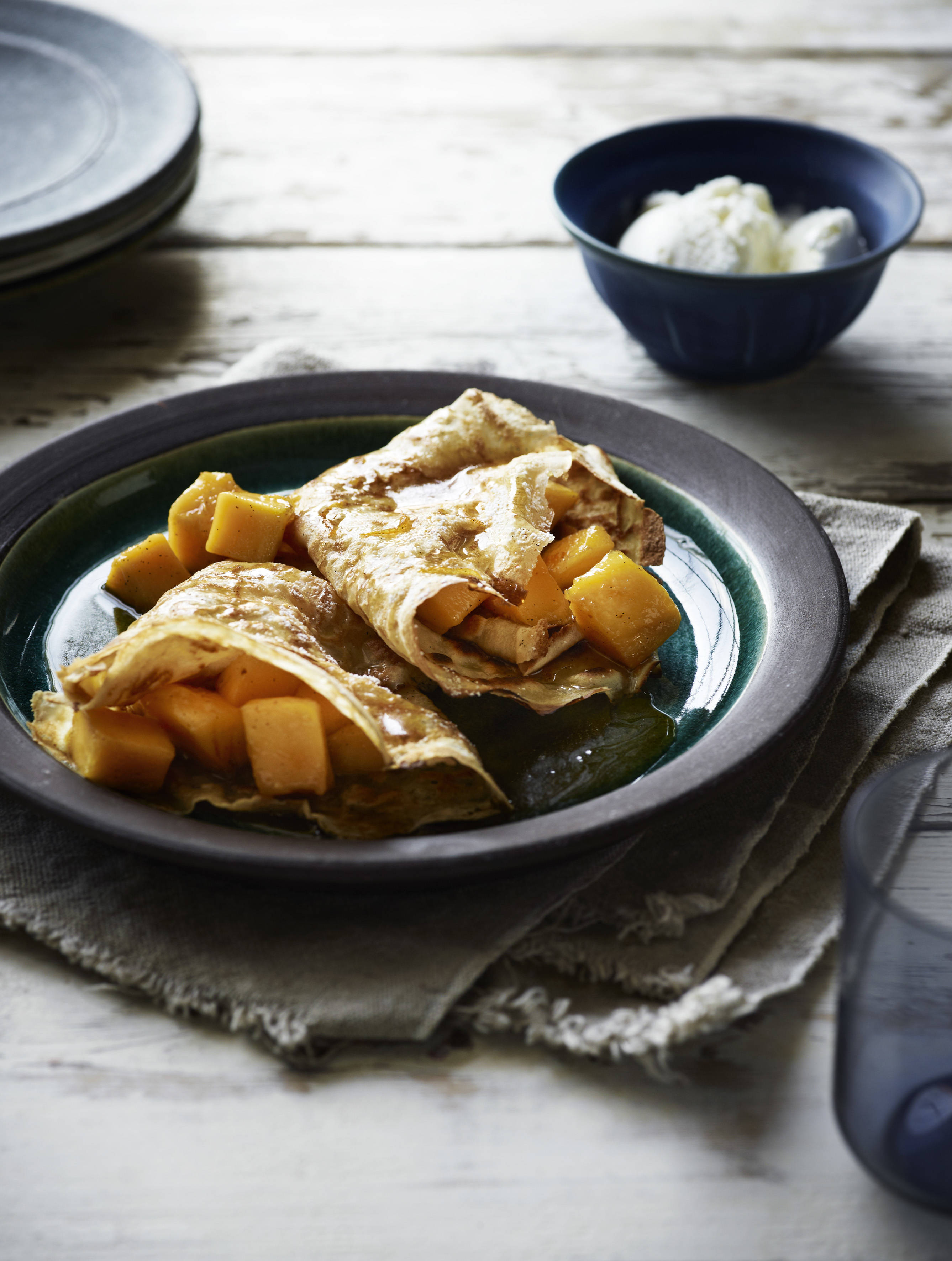 Ingredients
Crepes
3 eggs
About 120g plain flour
Pinch of salt
375ml milk
Butter
Mango and Amaretto Filling
80g butter
2 ripe mangoes, peeled, flesh removed, cut into 
large chunks
30g brown sugar
Vanilla pod
Teaspoon orange zest
2-3 tablespoon Armagnac liquor
Icing sugar for dusting
Small handful of crushed amaretto biscuits (optional)
Vanilla bean ice cream
Method
Crepes
Sift the flour and the salt into a bowl.
Whisk the eggs with the milk and then gradually pour in the flour, whisking continuously until 
smooth. Cover with cling film and leave to rest in the fridge for at least half an hour.
Beat the batter with a whisk before using.
Melt about 1 tablespoon of butter in a pan over a medium heat (preferably non-stick pan)
Give the pan a jiggle so the entire base is covered with the hot melted butter.
Once the butter starts to become almost golden brown in colour add a ladle of the crepe mix and 
really shake the pan around to spread the mix over the entire base of the pan.
When the crepe is browned on the underside use a spatula to flip it over and brown on the other side.
Once both sides are browned place the crepes on an upside down plate with a clean tea towel over the top and set-aside until ready to use.
Mango and Amaretto Filling
Pop half of the butter into a heavy bottomed non-stick pan over a medium heat; once the butter starts to sizzle add the mango, sugar, vanilla pod, orange zest and the Armagnac along with 2 tablespoons of water and cook for 2 minutes. Remove the pan from heat.
To assemble the dessert lay four cooked crepes out on a clean surface, spoon some of the cooked mango between the four crepes. Fold each crepe in half and then half again, use your hand to flatten the crepe a little.
Heat the remaining butter in a large pan over a medium heat and carefully add the crepes browning them in the butter, once golden in colour flip the crepes over and brown the other side, pour any remaining cooking liquor from the mango into the pan with the crepes and spoon the liquor over the crepes.
Serve the crepes immediately, drizzling any leftover liquor from the pan over the crepes, dust with icing sugar and serve with a scoop of vanilla bean ice cream.