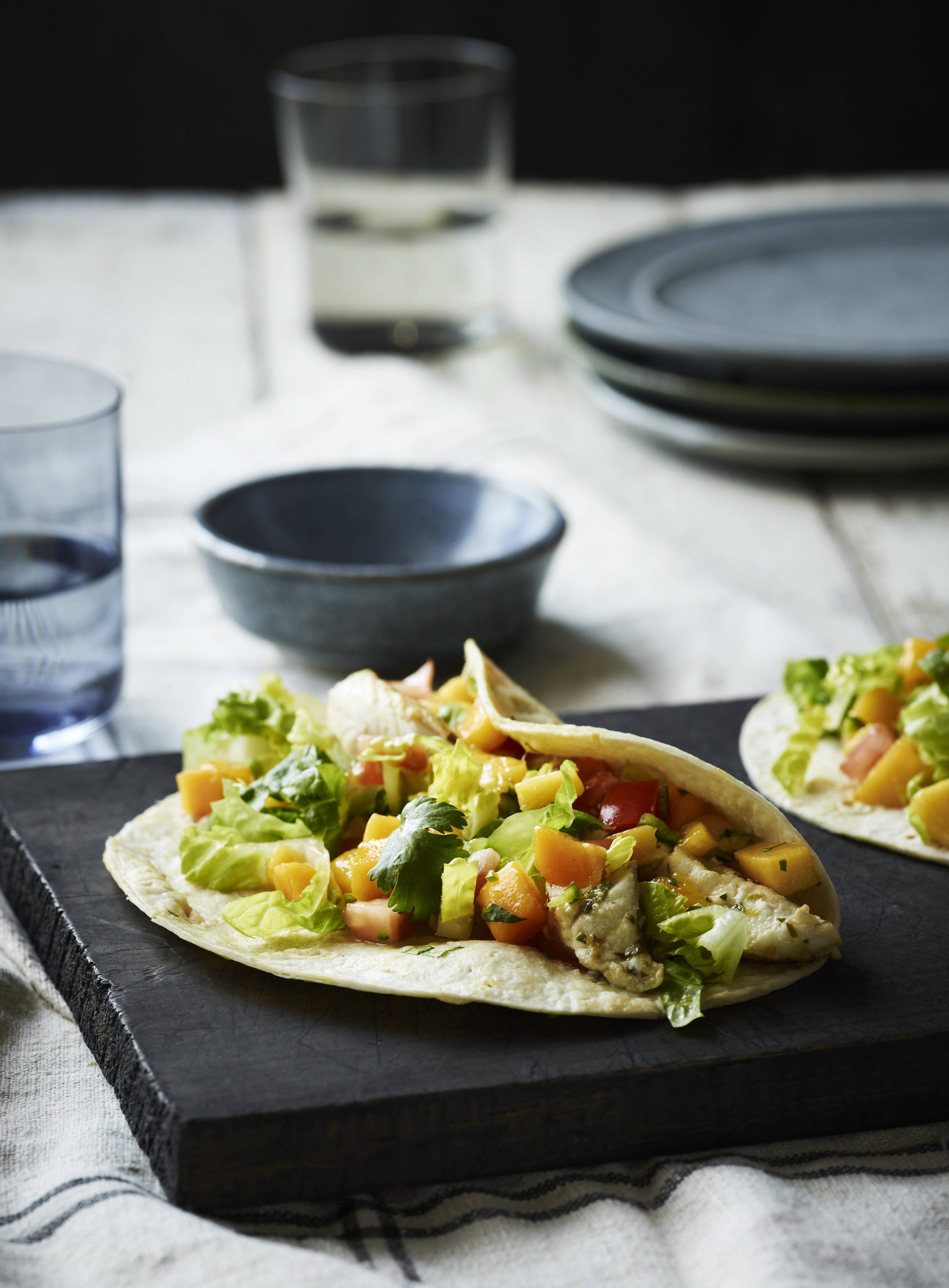 Ingredients
For the fish
600g flat head fillets
1 lime, juiced
1 tablespoon of extra virgin olive oil
Small handful of coriander, washed, dried and 
roughly torn
Teaspoon of freshly chopped green chili
Pinch of salt
For the mango salsa
1 ripe mango, skin removed and roughly diced
2 teaspoons of chopped jalapeno chili (or normal 
chili)
1 handful of coriander, washed, dried and 
roughly chopped
2 tablespoons of lime juice
Other
8 corn tortillas
2 handfuls of shredded lettuce
2 tomatoes, washed and diced
2 small handfuls of picked coriander, washed and air dried
Method
To marinade the fish combine all of the ingredients in a mixing bowl except the fish, stir to combine and then add the fish into the marinade and allow to marinade for at least 20 minutes at room temperature. Once marinated grill the fish over a high heat on both sides, once cooked allow to rest for a moment and prepare the remainder of the ingredients.
To make the mango salsa, combine the mango, chili, coriander and the lime juice and stir to combine.
To assemble warm the tortillas in a pan over a medium heat until warm, alternatively this can be done in the oven by wrapping the tortillas in aluminium foil and gently heating them until soft and pliable.
I normally serve everything individually in separate bowls on the table to allow guests to put them together themselves however if you wish to assemble them it's a simple process of scattering the cooked fish over the warm tortillas followed by the lettuce, diced tomatoes, coriander and a dollop of the mango salsa.