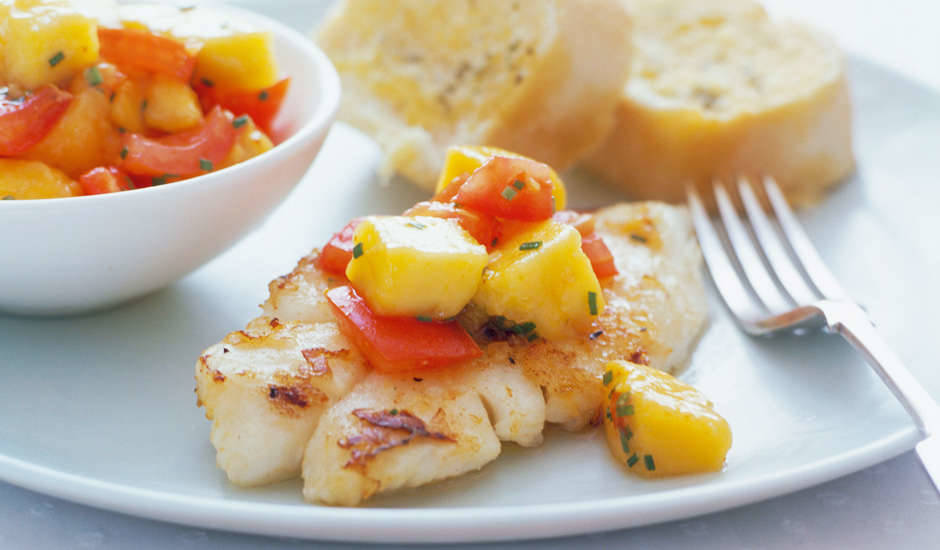 Ingredients
2 large mangoes
3 ripe tomatoes, quartered, deseeded
2½ tbs olive oil
1cm piece ginger, peeled, grated
2 tbs sweet chilli sauce
2 tbs finely chopped chives
4 white fish fillets, skin removed
garlic bread to serve
Method
Use a large metal spoon to scoop out the flesh from each mango cheek in one piece. Remove skin from the rest of the mango. Slice off flesh. Cut mango flesh into 2cm cubes. Place into a bowl.
Cut tomato flesh into 2cm cubes. Add to mango. Combine 2 tbs of oil, ginger, sweet chilli sauce, and salt and pepper in a screw-top jar. Shake well to combine. Pour over mango mixture. Stir gently to combine. Cover. Stand at room temperature for 10 mins.
Brush fish fillets with remaining 2 tsps of oil. Season with salt and pepper. Preheat a barbecue plate on medium-high heat. Cook fish for 2 mins on each side or until cooked through.
Stir chives through salsa. Place fish onto serving plates. Spoon over salsa. Serve with garlic bread.
Developed by Janelle Bloom for Nov 2004 edition of Super Food Ideas and used in an advertorial.