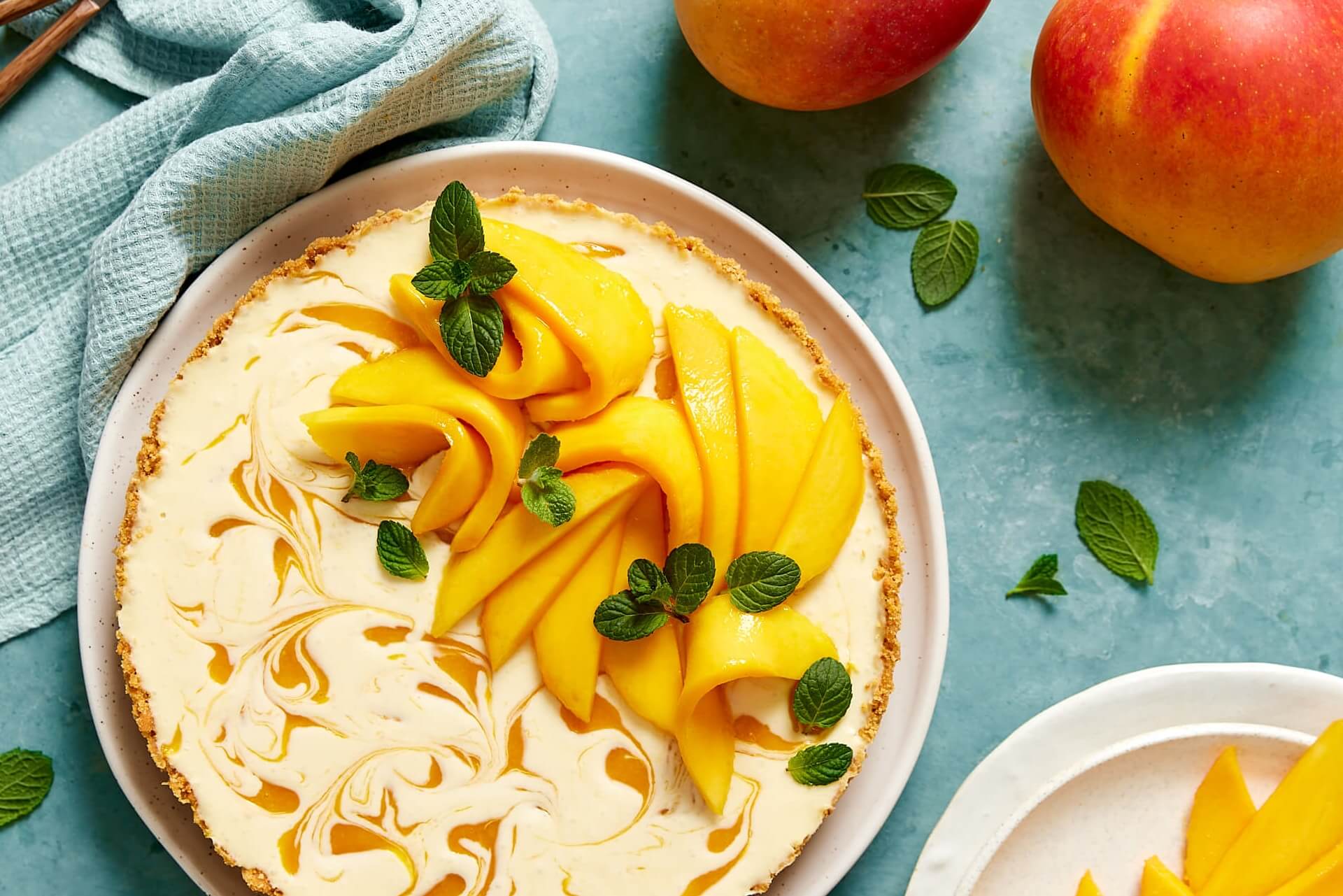 Ingredients
250g digestive biscuits
150g unsalted butter, melted
550g cream cheese
3/4 cup caster sugar
3 tbsp lemon juice
1/2 lemon zested
1/4 cup sour cream
1 tsp vanilla essence
1 cup coconut cream
3 gelatine sheets
1 mango, pureed
Method
Prepare a 22cm high side tart baking tin (with removable base), cut out a round piece of baking paper to line the base of the tin.
To make the base; place the digestive biscuits in a ziplock plastic bag and cover with a tea towel, using a rolling pin, crush the biscuits until they are completely broken up and resemble a fine crumb. Transfer to a mixing bowl.
Add the sugar and melted butter into the biscuit crumb bowl and stir with a spatula to combine. Turn the mixture out into the prepared tin. Using your fingers, press the crumb mixture firmly into the sides and the base. Place in the fridge for at least 30mins to chill completely.
Soak the gelatine sheets in cold water for at least 5 minutes.
To make the filling: cream together using electric beaters or a stand mixer the cream cheese, lemon juice, lemon zest and the caster sugar in a large mixing bowl. Followed by adding the sour cream and vanilla essence, beat until the mixture is creamy and smooth. If you have some lumps keep beating until they disappear.
Add half of the coconut cream to a small saucepan on medium heat, bring up to a low simmer. Squeeze out any excess water from the softened gelatine sheets and add them to the coconut cream. Stir until dissolved, remove from the heat and slowly add to the cheese mixture while beating. Add the remaining coconut cream and 1/2 cup of the mango puree and beat until well combined.
Take the chilled biscuit casing out of the fridge, fill it with the cream cheese mixture. Add small spoonful's of the remaining pureed mango, using a small spoon or chopstick swirl out from the dollops of mango puree. Cover with an upside-down dinner plate so it doesn't touch the top of the cheesecake and place back in the fridge to set for a minimum of 4hrs (leaving it overnight produces the best result).
Serve with fresh slices of mango arranged over the top and mint leaves.