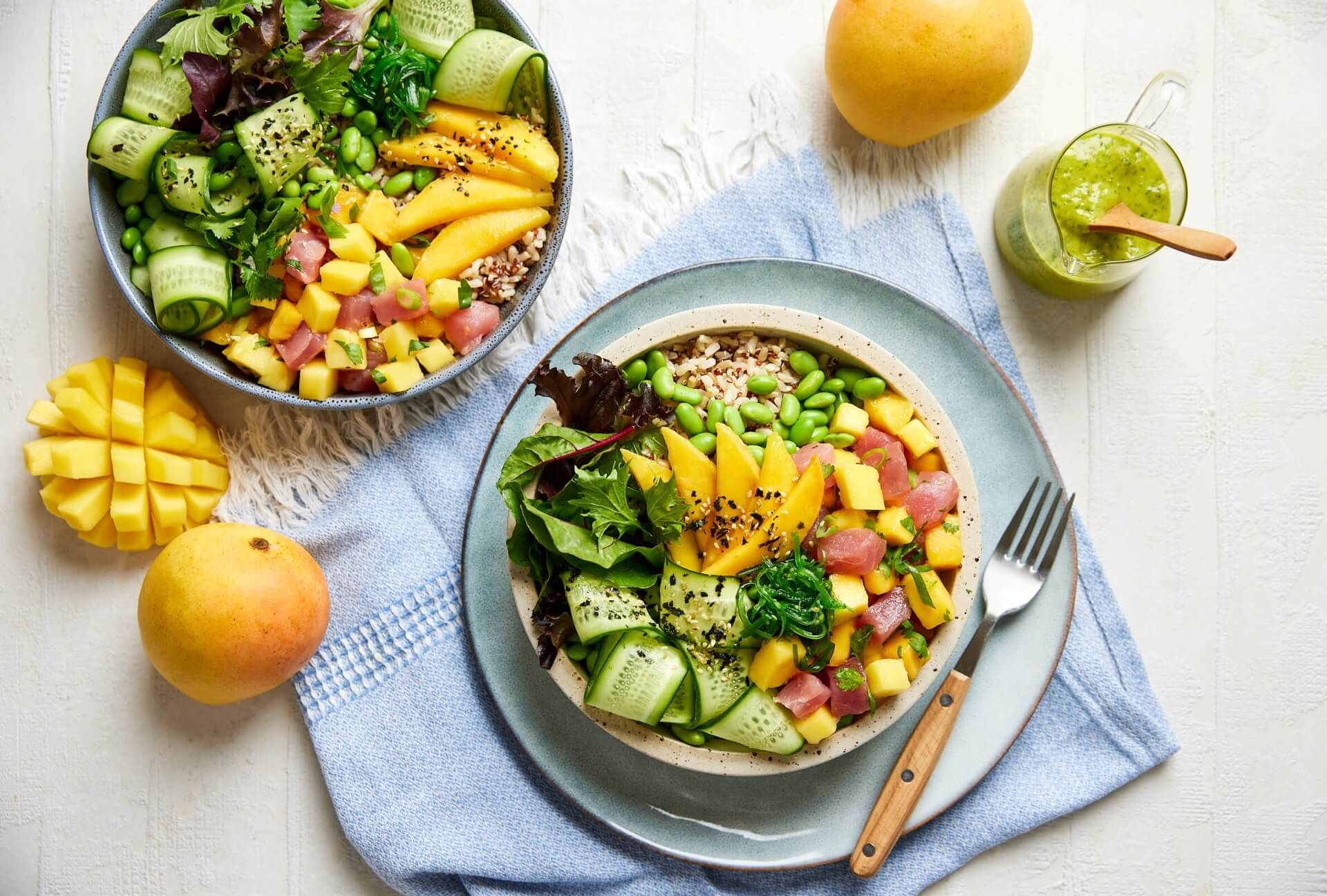 Ingredients
2 medium Mangoes
150g sashimi quality tuna, cubed
1 spring onion, thinly sliced
1/4 cup coriander leaves, thinly sliced
2 cups pre-cooked brown rice and quinoa mix
1 cucumber, sliced into ribbons
1/3 cup edamame
2 cups mixed lettuce leaves
2 tbsp seaweed
1 tbsp Nori rice seasoning (or nori flakes)
Mango dressing:
1 small Mango, cubed
1/4 bunch coriander, rinsed
2 tbsp olive oil
1 tbsp sherry vinegar
Method
To make the mango dressing, combine all ingredients into a food processor and pulse until combined, set aside. This dressing can be made ahead of time and stored in the fridge.
Slice the cheeks off the mango seed, cube one of the mangos and thinly slice the second mango. Using a large spoon, scoop out the slices and set them aside.
Combine the cubed mango, tuna, spring onion and coriander leaves in a small bowl, toss to combine.
To fill the poke bowls, start with a base of the pre-cooked brown rice and quinoa mix, followed by the lettuce leaves, cucumber ribbons, the tuna and mango mix and the edamame. Finish it off with a fan of the sliced mango and a tbsp of the seaweed.
Serve with a good sprinkle of the Nori rice seasoning over the top and the mango dressing on the side.